A Patient-Centered Approach for Renal Nutrition Therapy
Since its beginning, Patient Care America has been focused on providing patient-specific IDPN and IPN therapies that can help increase a patient's Serum Albumin and decrease the risk of fluid retention, inflammation, infection, hospitalizations, mortality and morbidity. By utilizing a patient-centered approach for your malnourished patients, Patient Care America can provide the right supplemental nutrition with our NutriRite® Intradialytic Parenteral Nutrition (IDPN) therapy for hemodialysis patients, or NutriRite Home™ IDPN therapy for at-home dialysis patients or Intraperitoneal Nutrition (IPN) therapy for peritoneal dialysis patients. Clinic values that may indicate malnutrition can include:
Albumin levels below 3.5 gm/dL; or
Unintentionally maintained body mass index (BMI) of <20 unintentional weight loss of >5% dry weight over the last three months or a shorter period of time; or
Documented lack of gain in dry weight despite an intentional effort to gain weight
Current studies indicate that 10-15% of all patients with Chronic Kidney Disease (CKD) are malnourished. Evidence also indicates that patients with Serum Albumin levels below 3.5 g/dL are at a significant risk of increased morbidity and mortality.
Lab values that may indicate malnourishment include:
Serum Albumin less than 3.5 g/dL

Body Mass Index less than 19

Weight loss greater than 5% within 3 months
In cases where oral nutrition and supplementation is not enough, a malnourished patient may benefit from IDPN (intradialytic parenteral nutrition) for hemodialysis, or IPN (intraperitoneal nutrition) for peritoneal dialysis. IDPN and IPN are effective therapies for protein replenishment of malnourished patients.

What is Intradialytic Parenteral Nutrition (IDPN)?
IDPN is the administration of a nutrient solution directly into the bloodstream while a patient is receiving hemodialysis. The solution is made up of amino acids, dextrose, and, when appropriate, lipids to provide both protein and calories in an attempt to meet the patient's weekly nutritional needs. IDPN therapy is administered at a dialysis clinic.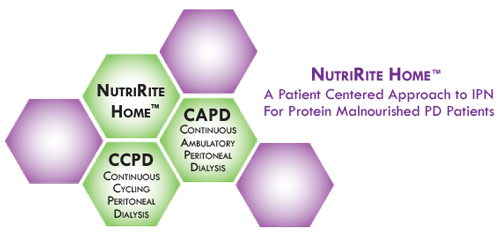 What is Intraperitoneal Parenteral Nutrition (IPN)?
IPN is the administration of a nutrient solution delivered into the peritoneal cavity. The solution is comprised of amino acids and dextrose which substitutes for a dextrose solution exchange in the patient's prescribed peritoneal dialysis regimen. The goal of IPN is to provide both protein and calories in an attempt to minimize the patient's loss of protein through dialysis and meet the patient's weekly nutritional needs. IPN therapy is typically administered at the patient's home.
As a leading premier provider of renal nutrition therapy, dialysis professionals trust Patient Care America with quality patient care. Our pharmacists deliver patient-specific nutritional formulations based on nutritional lab values provided by renal dietitians. We work in partnership with dialysis center clinicians to ensure positive outcomes for the malnourished patient.
Simply complete and submit PCA's Referral Form and submit online or fax to 888-443-5034. Our Patient Care Coordinators are also ready to assist you with referrals at 866-348-0441.