NutriRite® IDPN Therapy
The Rite Renal Nutrition Therapy at the Rite Time.
NutriRite® IDPN Therapy is a supplemental form of parenteral nutrition prescribed to provide malnourished hemodialysis patients with the protein, calories and other nutrients that their body needs for strength and energy. NutriRite IDPN Therapy is an effective and convenient nutrition therapy for providing hemodialysis patients with essential and non-essential amino acids. On average NutriRite delivers 75-85 grams of amino acids per dialysis treatment.

NutriRite IDPN is a uniquely formulated protein infusion therapy that is customized for the malnourished patient. Our NutriRite Specialists can assist in determining whether a patient may benefit from NutriRite therapy.
When is the Rite Time for NutriRite IDPN?
Prior to initiation of NutriRite IDPN, the Patient Care America clinical staff will review the clinical data with the clinicians of the dialysis center to determine the most appropriate therapy for each patient. NutriRite IDPN is available solely by prescription through a physician. Patient Care America works to coordinate nutritional care for the patient by engaging the appropriate clinical staff, including the physician, or nephrologist to ensure a proper treatment plan. Our goal is to optimize the nutritional status of the malnourished patient, improve their clinical outcome, and increase the patient's quality of life.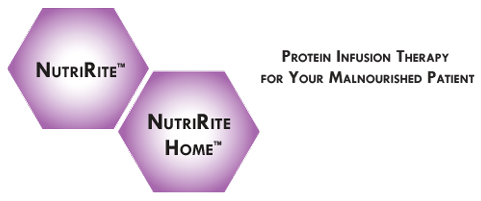 Renal Nutrition Therapy Tailored to the Patient
NutriRite IDPN is conveniently administered during hemodialysis. There is no interruption to the patient's dialysis or clinic work flow. Approximately 90% of amino acids and nutrients are absorbed after dialysis. NutriRite IDPN is specifically formulated to the nutritional needs of the patient, and will not affect blood glucose in patients with diabetes. Formulations, including low dextrose, and optional lipids, allow for optimal patient outcomes. Once on continuous therapy, patients on average reach their nutritional goals within 6-12 months.
NutriRite IDPN is covered by Medicare Part D, and most insurances. NutriRite IPDN therapy does not impact the patient's ESRD Medicare payment bundle.
Simply complete and submit PCA's Referral Form and submit online or fax to 1-888-503-6982.
Our Patient Care Coordinators are also ready to assist you with referrals at 866-348-0441.