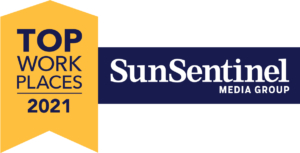 Patient Care America is proud to announce it has been awarded South Florida's Top Workplaces for 2021 by the Sun Sentinel for the fourth consecutive year! Through an anonymous survey our employees were able to provide feedback regarding our work place culture including coaching, leadership and performance among other criteria.
This year the Sun Sentinel surveyed over 35,000 employees and obtained over 18,000 responses in South Florida. "We are very thankful to the Sun Sentinel for recognizing Patient Care America through this annual process." said Patient Care America's CEO Phil Keough. "I am so proud of each and every member of the PCA team who work diligently every day as a collective team to provide world class care to our patients and our clinic partners. This award exemplifies the culture this team has fostered that embraces empowerment, open communication, transparency and team work across everything that we do. Having great people is what makes this a great place to work."
ABOUT PATIENT CARE AMERICA
Patient Care America was founded as a specialty pharmacy focused on renal nutrition therapy for malnourished dialysis patients. Headquartered in Pompano Beach, FL, Patient Care America is committed to the highest quality patient care to achieve optimal therapeutic outcomes. The company's dedicated team of pharmacists, dietitians, nurses, nutrition therapy consultants, and patient care coordinators deliver exceptional quality service in every single detail for healthcare professionals and their patients. Patient Care America is proud to offer our NutriRite IDPN and IPN renal nutritional therapies, along with a suite of patient and clinician services to support and educate those we serve.