Albi the Alligator is from Florida and is Patient Care America's company mascot. Albi is very health conscious and loves to give tips to patients on staying healthy or improving their health. He also likes to provide educational tools to patients. Albi can be seen at patient events, tradeshows, and on social media. From time to time, he will also pop up on a blog or eNewsletter.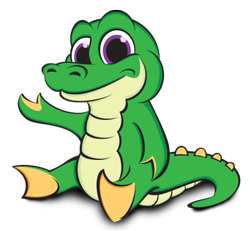 Albi is named after Albumin, a critical indicator of malnutrition. He is a fun loving Alligator, and unlike other gators, Albi is approachable, friendly, and provides patients with positive support and encouragement. So, if you see a smiling Alligator headed your way, don't run…..but smile back. Albi won't bite, and he'd love to meet you and share his nutritional tips and renal-friendly snacks!
Look for Albi at Patient Care America events, industry trade shows, and at your dialysis clinic!