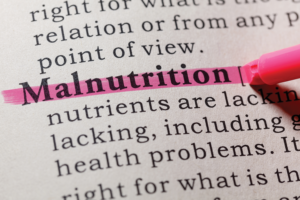 Every year, the month of September is used to bring awareness to malnutrition and its devastating consequences which includes:
2.2x increased risk for being admitted to the hospital with serious infections
1.4x increased likelihood of being readmitted to the hospital within 30 days following discharge
73% higher hospital costs
3.4x higher inpatient mortality
Patients within the dialysis community are at high risk of malnutrition with up to 62% of hemodialysis (HD) and up to 50% of peritoneal dialysis (PD) patients meeting criteria. When the Kidney Disease Outcomes Quality Initiative (KDOQI) released new practice guidelines for nutrition management in chronic kidney disease (CKD) in 2020 they laid out a strategy to identify malnutrition so that it can be caught early and corrected quickly with available interventions.
A key component to that strategy is routine screening using the 7-point Subjective Global Assessment (SGA). The 7-point SGAE consists of 5 components related to medical history and status:
Weight change
Dietary intake change
GI symptoms
Functional capacity
Metabolic stress from disease
Along with 3 components requiring physical examination:
Muscle wasting
Fat depletion
Edema
For a walk through of the Physical Assessment portion of the 7-point SGA, see the below video!
Once each component is scored independently, the numbers are added up and divided to find the average which provides the final score, 1-7. The lower the score, the worse the malnutrition status of the patient.
Knowing where a patient falls on the malnutrition spectrum helps identify which level of intervention may be needed. Those with higher scores may only require ongoing reinforcement education from their dietitian to maintain healthy dietary intake.
Moderate and severely malnourished patients may require more intervention options including Oral Nutrition Supplements (ONS), Intradialytic Parenteral Nutrition (IDPN) for HD or Intraperitoneal Nutrition (IPN) for PD to boost protein and calories, or even more aggressive and invasive treatments like enteral nutrition.
Unlike the standard SGA, the 7-point SGA has shown to be more time sensitive to nutrition status. This means when interventions are implemented, patients can be re-evaluated using the 7-point SGA monthly. Tracking progress through changing 7-point SGA scores allows clinicians to adjust interventions, and add or discontinue treatments, in a timely manner.
If you would like to implement the 7-point SGA in your practice, you're invited to check out Patient Care America's Clinician Portal where you will find a library of malnutrition assessment support tools including:
7-point Subjective Global Assessment Form
3-minute video guide to the physical assessment for the 7-point SGA
Written Quick Guide to the physical assessment
Bonus resources:

Malnutrition Inflammation Score Assessment form
Patient Handout on Renal Friendly Foods to Fight Malnutrition
Patient Handout on Increasing Dietary Protein
To learn how Patient Care America's IDPN and IPN therapies can help treat your patients with malnutrition, be sure to check out these resources:
NutriRite IDPN Therapy
NutriRite Home IPN and IDPN Therapies
Clinical Studies
Blog posts:

Exploring Options for Peritoneal Dialysis
Clinician Perspectives on IDPN
References
Guenter, P., Abdelhadi, R., Anthony, P., Blackmer, A., Malone, A., Mirtallo, J. M., … & Resnick, H. E. (2021). Malnutrition diagnoses and associated outcomes in hospitalized patients: United States, 2018. Nutrition in Clinical Practice, 36(5), 957-969.
Ikizler, T. A., Burrowes, J. D., Byham-Gray, L. D., Campbell, K. L., Carrero, J. J., Chan, W., … & Kaysen, G. A. (2020). KDOQI clinical practice guideline for nutrition in CKD: 2020 update. American Journal of Kidney Diseases, 76(3), S1-S107.
Steiber, A. L., Kalantar-Zadeh, K., Secker, D., McCarthy, M., Sehgal, A., & McCann, L. (2004). Subjective Global Assessment in chronic kidney disease: a review. Journal of Renal Nutrition, 14(4), 191-200.
Sum, S. S. M., Marcus, A. F., Blair, D., Olejnik, L. A., Cao, J., Parrott, J. S., … & Byham-Gray, L. D. (2017). Comparison of subjective global assessment and protein energy wasting score to nutrition evaluations conducted by registered dietitian nutritionists in identifying protein energy wasting risk in maintenance hemodialysis patients. Journal of Renal Nutrition, 27(5), 325-332.
Kwon, Y. E., Kee, Y. K., Yoon, C. Y., Han, I. M., Han, S. G., Park, K. S., … & Kim, Y. L. (2016). Change of nutritional status assessed using subjective global assessment is associated with all-cause mortality in incident dialysis patients. Medicine, 95(7).
Lim, S. L., Lin, X. H., & Daniels, L. (2016). Seven‐Point Subjective Global Assessment Is More Time Sensitive Than Conventional Subjective Global Assessment in Detecting Nutrition Changes. Journal of Parenteral and Enteral Nutrition, 40(7), 966-972.