NutriTrak℠ Patient Progress On Demand
Patient Care America in partnership with clinical laboratories have designed the NutriTrak℠ program to assist renal dietitians in their assessment of their patient's renal nutritional therapy. NutriTrak℠ is an ideal tool to review the efficacy of NutriRite™ Protein Infusion Therapy. Because we realize that sometimes it may take a patient up to six months or more to see improvements in their lab values while on NutriRite™, the NutriTrak℠ program measures a patient's monthly progress via a quarterly report. NutriTrak℠ tracks both Serum Albumin level and Dry Weight of the patient on NutriRite™ for hemodialysis.

Additionally, Patient Care America provides insights to the patient's progress via pharmacist clinical narrative. This information coupled with a charted graph of the patient's progress may be useful to the dialysis clinician as a QAPI (Quality Assessment Performance Improvement) tool. This is especially important due to new CMS guidelines for STAR ratings in dialysis centers. (For more information on STAR ratings, please click here.
As always, patient privacy and HIPAA guidelines are followed to ensure a positive patient experience. This is just one of the many ways that Patient Care America partners with dialysis centers to meet patient nutritional goals.
An example of charted NutriTrak℠ results are below:
If your dialysis center would like to participate in the NutriTrak℠ for Dialysis program for your NutriRite™ patients, please Opt-In by clicking and completing our Opt-In form. Once completed, please FAX the form to 888-443-5034, or contact your NutriRite™ Specialist.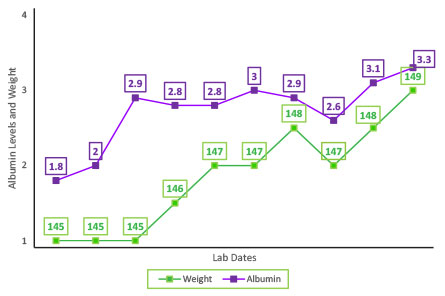 NutriPlan 7℠ Oral Protein Jumpstart
Like our name implies, Patient Care America truly cares for our patients. Because malnourished patients require time to replenish their amino acids and nutrients to a healthy level
Patient Plus℠
At Patient Care America, we put the patient in the center of all we do. To facilitate this, we developed the Patient Plus℠ program, which allows the patient engagement in their care.
Clinical Support
Each account at Patient Care America has its own Patient Care Team. The Patient Care Team consists of the account's NutriRite™ Specialist, their Patient Care Intake Coordinator, our Nursing staff, our Licensed Pharmacists, and our Warehouse team.